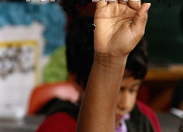 Kristen Luschen, Ph.D.

Assistant Professor of Education Studies
School of Social Science
893 West Street
Amherst, MA 01002

Office: 210 Franklin Patterson Hall
Phone: (413) 559-5357
Fax: (413) 559-5620
Email:

kvlSS@hampshire.edu


Professor Luschen will be on sabbatical in Spring 2007.

Brief Biography



Kristen Luschen is Assistant Professor of Education Studies in the School of Social Science. She received her B.A. and M.A. in Sociology from the State University of New York at Buffalo. She received her doctorate in 2005 from the Cultural Foundations of Education Program at Syracuse University with an emphasis in Sociology of Education and Women's Studies.

Kristen Luschen is a co-founder of the Critical Studies of Childhood, Youth, and Learning Program, an innovative cross-disciplinary program designed to foster approaches to understanding issues related to children and youth that integrate different perspectives, methodologies, and disciplines. Students and faculty are encouraged to consider questions about young people's biological, psychological, and social development alongside other important questions that emerge from recent rethinking of children's lives in cultural, historical, political, and environmental contexts in and outside of schools.

Her research and teaching explores how cultural conceptions of youth shape school culture and policy and the experiences of young people in them. Her current research examines how adult female educators working within the umbrella of pregnancy prevention services at an urban school district struggled to provide access to services and sexuality education for all young people in their district. She teaches courses in sociology of education, qualitative and feminist methodology, gender studies and cultural studies of education.
Recent Scholarship


Luschen, K

.

(2006). 'Does this mean I can't be your daughter?': Troubling representations of white working-class teen mothers." In S. Books (ed.),

Invisible Children in American Schools.

Lawrence Erlbaum: Mahwah, New Jersey.

Luschen, K. (2005). Empowering Prevention: Adolescent Female Sexuality, Advocacy and Schooling. (Dissertation) Syracuse University: Cultural Foundations of Education.


Luschen, Kristen V. & Lesley Bogad. 2003. "Bodies that Matter: Transgenderism, Innocence, and the Politics of 'Unprofessional' Pedagogy." Sex Education 3(2): 145-155.





Selected Courses


SS 124: Cont. Issues in Education Reform: No Child Left Behind

SS 129: Representations of Childhood and Youth

SS 166: Girls in School: Feminisms and Educational Inequality

SS 218: Youth, Sexuality, and Education


SS 231: The American School: Education in a Multicultural Society


SS/HACU 296: Producing Youth/Culture


SS 312: Ethnography in Educational Spaces