PAST SCREENINGS:
The Museum of Modern Art(world premiere - NYC)

The Vermont International Film Festival (Burlington, VT)

Northampton Academy of Music (Northampton, MA)

Katzen Center at American University in Washington D.C.

Santa Fe Film Festival(Santa Fe, NM)

Time and Space Limited(Hudson, NY)
Santa Barbara International Film Festival(Santa Barbara, CA)
Institute of Contemporary Art (Boston, MA)
Smith College (Northampton, MA)
Hampshire College(Amherst, MA)
International Women's Film Festival (Buffalo, NY)
Paul Robeson Center of the Arts (Princeton, NJ)
Ankara International Film Festival (Ankara, Turkey)
Green Mountain Film Festival (Montpelier, VT)
San Francisco Women's Film Festival (San Francisco, CA)
92YTribeca (New York, NY)
NewFest (New York, NY)
International Women's Film Festival of Barcelona(Barcelona, Spain)
Frameline34 (San Francisco, CA)
BOLD Festival (Vancouver, BC Canada)
Pioneer Women and Wonderland (Holyoke, MA)
Austin Gay & Lesbian Film Festival (Austin, TX)
VOX Feminae Film Festival(Zagreb, Croatia)
Purchase or rent THE HERETICS on DVD, along with other works by Joan Braderman at the Women Make Movies website!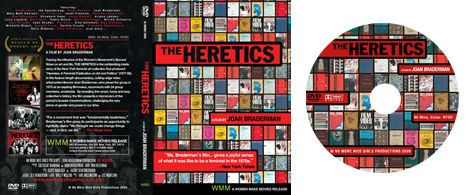 ---
---
THE HERETICS reveals the inside story of the Second Wave of the Women's Movement through the eyes of Joan Braderman, who arrives in NY in 1971 to become a filmmaker. By lucky chance, she joins a feminist art collective at the epicenter of the 1970's art world, New York City.
The Second Wave was made up of thousands of small groups who met in spaces that were private and intimate. With that privacy protecting the inner workings of feminist collectives, as well as backlash in the mainstream media that distorted the image of feminists from the start, it's no wonder that most people have no idea what the Second Wave was, or what it meant to hundreds of thousands of women, world-wide.
THE HERETICS focuses on one group as a microcosm of the larger movement. That group, the Heresies Collective, published: HERESIES; A Feminist Publication on Art and Politics from 1977-1992. The hundreds of collective members are now scattered around the globe; accomplished artists, writers, architects, painters, filmmakers, designers, editors, curators, and teachers. Twenty-four members of the collective speak intimately with the filmmaker about the extraordinary times they shared, challenging the terms of gender and power and re-imagining the lives of generations to come.
Heresies vowed to increase the visibility of women artists in the art world and to get many more involved in creating the scene, discourse and resources for an artistic universe of our own. Thirty years later, we revisit these women, interviewing them in their studios and other sites as they write, create and install new works. Our goal is to develop a collective voice, combining: first person narrative, the voices in the interviews and the "third" perso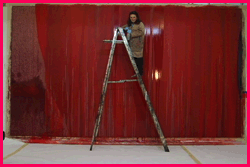 n of historical and fictional material. By multiplying our cinematic tropes, we produce a filmic version of feminist art's "radical collage."
When talking about feminism with younger women, Second Wave Feminists often have the feeling that they are speaking across a chasm of misconception. To some young people, feminism seems as if it is an archaic, perhaps exotic but inaccessible moment, now passed. Others fear that feminism is not about possibility but denial of the pleasures of being feminine. With the mass media at work on all of us from infancy, young women have been lulled into a sense that the issues faced by the Women's Movement cannot touch them – until, in fact, they do. With the deep and sustained backlash against the women's and other movements for liberation, stories like that of HERESIES are being revised out of existence.
Despite the best efforts of the Guerilla Girls, NOW, CODEPINK, SISTAHS, LA RAZA, and countless other organizations and individual women all over the world, statistics like the following can be found in nearly every field of endeavor: "60% of art students are women, only 15% show up in galleries and about 4% of the work shown these days, in any given show at the Museum of Modern Art is made by women." * Such statistics are shocking to those on both sides of the generational divide. Some of the women who launched HERESIES are now in their 70's and 80's. They are pioneers; they are our living history ('herstory'). We must get them on tape with some urgency if their/our version of history is to survive.
• Schor, M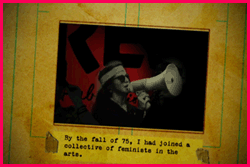 ira, M/E/A/N/I/N/G Online.

Designing expressive ways to layer images, we work with: fiction, non-fiction, stills, montage, special effects, text, animation, archival footage, the magazine itself, artworks and art as it is being made. In staged sequences, young women play feminists of the period, with no dialogue, evoking the feel of the places they inhabited in super-8 film, a world effaced from history by the mass media. The covers of Heresies open to reveal the images inside the magazine, mixed with archival photos and video of the interviews. We collage all these elements in a language that evokes the collective experience and the aesthetics of the magazine and feminist art of the period. The original soundtrack for THE HERETICS mirrors the "radical collage" aesthetic, mixing acoustic rock guitar, scat-singing, jazz piano and violin, made mainly by women. Scored by June Millington, lead guitar of "Fanny" the first all-female rock group to make the top 40, the soundtrack features other artists such as Holly Near and Chris Williamson, contemporaries of the Heretics. The young women crew members on the film appear in "behind the scenes" shots, mentored by Braderman and a current women's collective appears, clearly following in the footsteps of HERESIES.
For some of its audience we imagine this film will offer a kind of retrospective mirror. These are the Second Wave Feminists who participated in or followed the progress of projects such as HERESIES. It will remind us that despite the harsh political landscape of the moment, we made an enormous difference and that our story is being told. It will show some of the extraordinarily moving, articulate, lush, funny and complex works of art, made by HERESIES women over these years and in progress now. The works themselves, often describe in many and varied forms - some subtle, some direct; some figurative, some abstract – what it's been like living female in our times.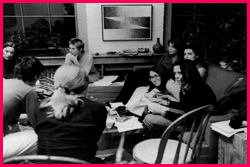 To younger generations, we hope the film will give a feeling for the HERESIES collective's sense of optimism, purpose, deep commitment and passion, as well as the fun that we had -- stretching to achieve remarkable political goals. Now, once again, we need the images – in all their complexity -- to remember -- and to dramatize the steps we took and the ones that must still be taken. The film will inspire its viewers to step up once again, in the path marked by those of us who went before.

Writer/Director Joan Braderman - nomorenicegirlsproductions.org
Producer Cresent Diamond - crescentdiamond.tripod.com
---
Check out our website, including all 26 issues of Heresies, a Feminist Publication on Art & Politics in downloadable PDF form
Purchase or rent THE HERETICS on DVD, along with other works by Joan Braderman at the Women Make Movies website
Download press-pack for THE HERETICS here!



---