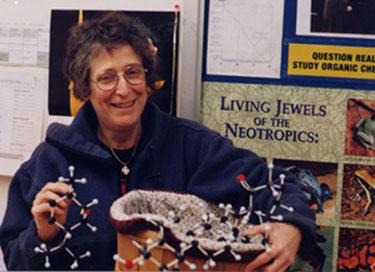 I taught at Hampshire since it opened for students in the fall semester of 1970 until July 1, 2008, when I retired. I was one of two women in the School of Natural Science in that first year, and since we were both part time, we added up to less than a whole FTE. My husband - Tom Lowry - is retired from teaching organic chemistry at neighboring Smith College. We have three grown children who are all making their way in the world in the arts, and six grandchildren. We live in western Massachusetts with our dog Dover. Gorgeous, irrepressable, goofy Mungo died unexpectedly February 9, 2008 of advanced spleen cancer at the too young age of 5. He was a dog that liked his food. [http://dogblog.doghampton.com/] Dover was born February 10, and joined our household April 5, 2008. Our older dog, Jonah, whom Dover adored, died November 8, 2008, after a long bout with cirrhosis of the liver.
I received a Ph.D. degree from MIT (known by our daughter, who was very young at the time, as "Mama's Tea House") in Organic Chemistry. At MIT I studied under Professor Frederick Green, to whom I am extremely thankful for support during the '60s when women were not generally accepted in graduate schools in science; he was an inspiring mentor. My thesis was titled "The Stereochemistry of Free Radicals," a source of interesting comments and drawings from nonscientific friends and relations.
I have a passion for organic structure and mechanism, and am dedicated to the principle that one's world view is richer observed from the molecular point of view. Check out the Molecule for the Month pages on the left so you can get a start on becoming an Organic Chemistry enthusiast. With other women science faculty, I helped develop the Women in Science Program at Hampshire, (see the Day in the Lab program), and I was a founding member of the Hampshire Premed Committee.
My main teaching area was Organic Chemistry, a two semester course often followed by a semester of Bioorganic Chemistry. I developed several first year seminars, including Myths of Science: Science and Popular Opinion, Plants and Human Health, and Color. In my first year of retirement I taught a January adaptation of Plants and Human Health, and filled in part time in the Hampshire advising center. I plan to include retirement relflections on my blog : http://saunteringdog.blogspot.com/. In retirement I hope to continue writing occassional Molecule of the Month essays, train Dover as a therapy dog (he already has passed the Canine Good Citizen and Therapy Dog International tests, has been into several nursing homes and rehab centers, classes, and meetings, and in general has been an ideal addition to out household), and work for equality, inclusion and reconciliation in the Episcopal Church.
I draw cartoons on all media I can find and am especially fond of drawing dogs in any mood or pose. I am working on a compilation of my drawings for a book titled "Saints and their Dogs." My drawings were used to illustrate the science education manual "School/College Partnerships: Inquiry-Based Science and Technology for All Students and Teachers," edited by Merle S. Bruno and Jaqueline Nocella Chase, and they show up in many other venues such as tee-shirts, booklets, cards, and more. On weekends I direct a crew of 60 acolytes at Grace Episcopal Church in Amherst, where I was senior warden during interesting times, and I am currently a member of the Liturgical Commission.
Interesting and/or useful links: